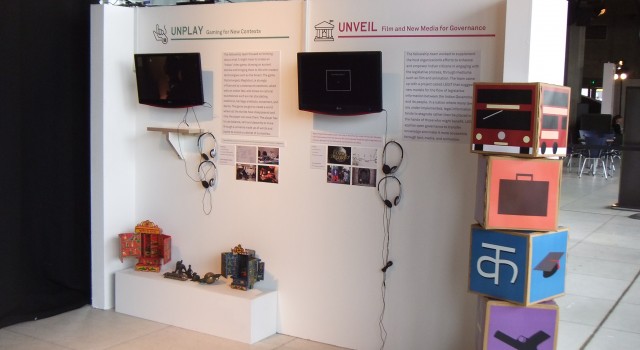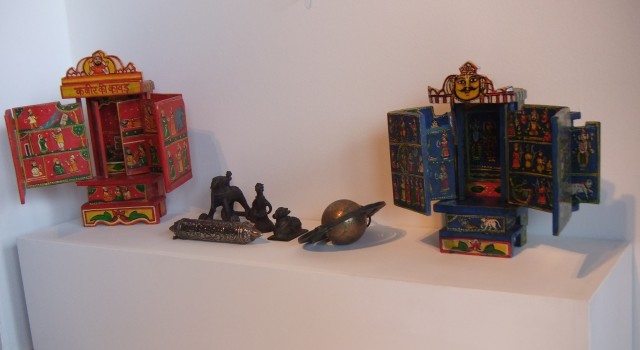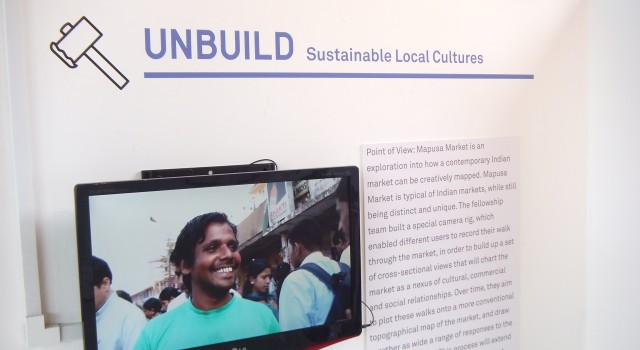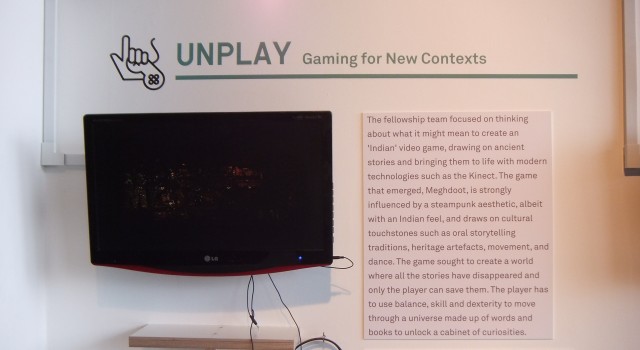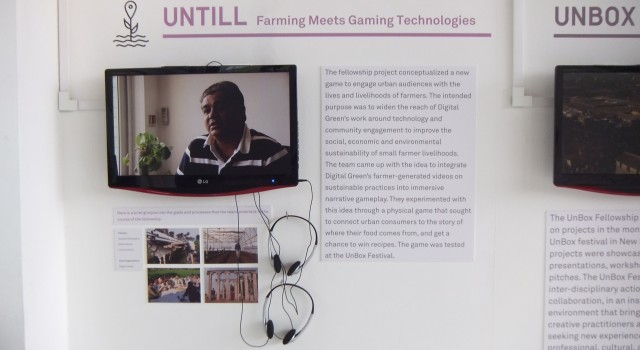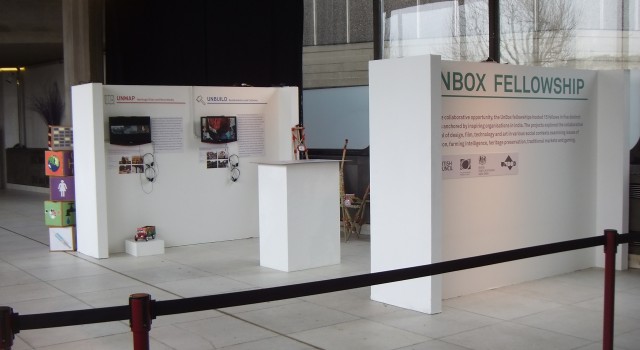 Some images from the UnBox Fellowships exhibit at Alchemy.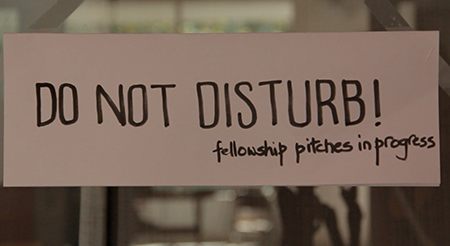 A component of the UnBox 2013 fellowships that made them a bit different and unique was the potential for acquiring additional funding for the fellows to continue their projects. This made the month-long engagement leading up to the festival the initial, proof-of-concept phase in which the top-level ideas were created. In essence, the projects were outlines that the additional funding would allow to be fleshed out.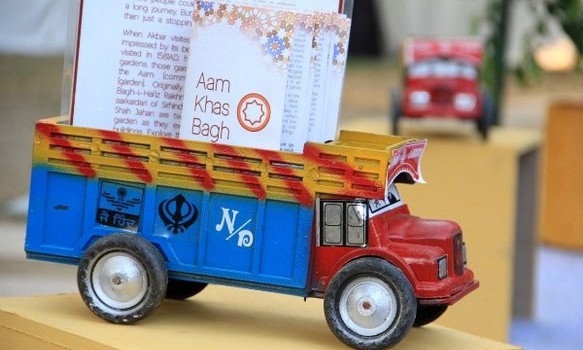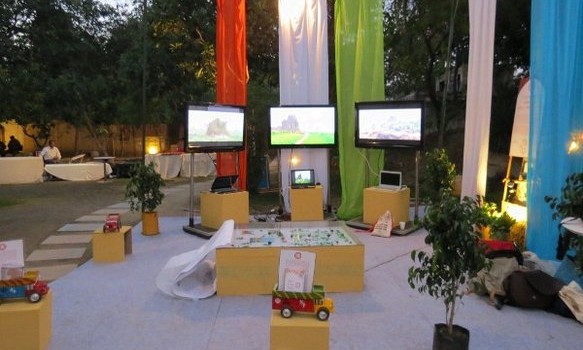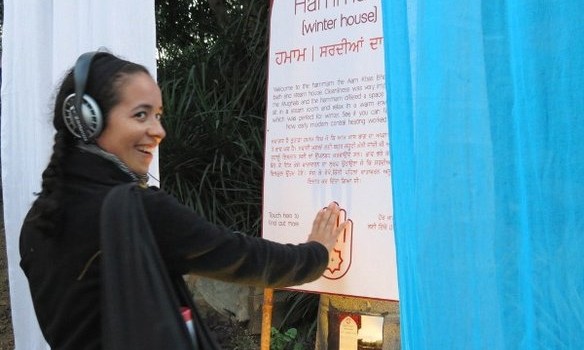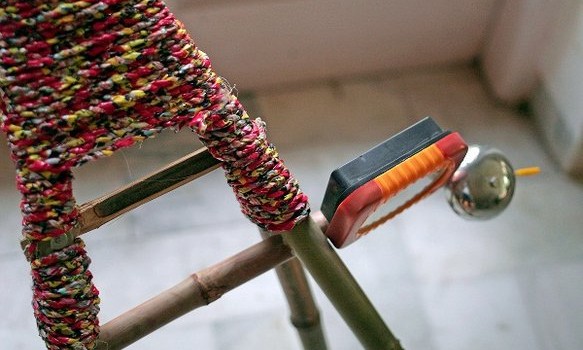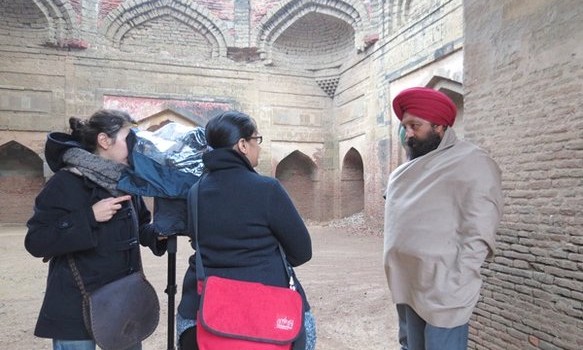 The UnBox Fellowships 2013 are a part of the exciting Alchemy Festival in London.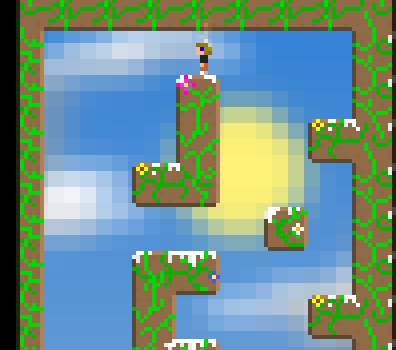 I'm surveying a range of sources, resources and inspirations to put together my presentation – the influences, serendipities and references that have enriched and informed my research framework over these last few weeks have been really varied. Here's a glance at the words, images and ideas that have shaped Project Inkwell.
 Naomi Alderman's excellent talk at the British Council on writing for online games. Alderman's phenomenal success with Zombies Run! and Perplex City made her a perfect person to talk to us about different modes of interactive narrative and her theories of narratology in particular really helped us think about the shape of the narrative that would guide our game. Her diktat 'make this real for the players' has stuck with us through the building of Inkwell.
A friend, Arunava Sinha, I met for lunch presented me with a copy of his latest work of translation: the exquisite Dozakhnama, which introduced me to the concept of the dastan/goi or the storyteller whose stories can be dipped into in a random order – reminding me of Naomi's distinction between various game structures e.g. in Greek tragedy, the end is always fated and inevitable, despite the player/protagonist's actions whereas other narrative traditions have a more open-ended, or circular ouroboric trajectories.
She mentioned the heartrending Gravitation – I never knew mere pixels could pack such an emotional punch till I played this.
A visit to the India Art Fair unearthed treasures that chime with the spirit of Inkwell, which uses steampunk, curiosity cabinets and storytelling as its aesthetic cornerstones.
http://trope-tank.mit.edu/games_by_the_book/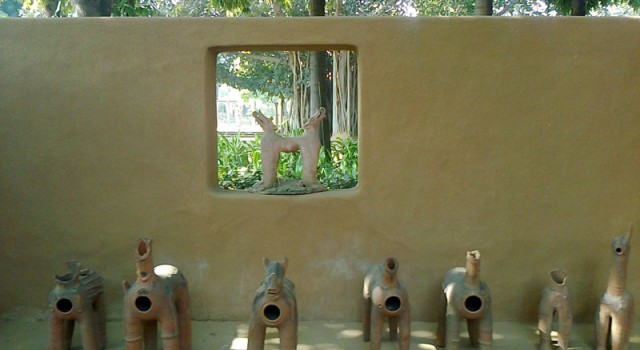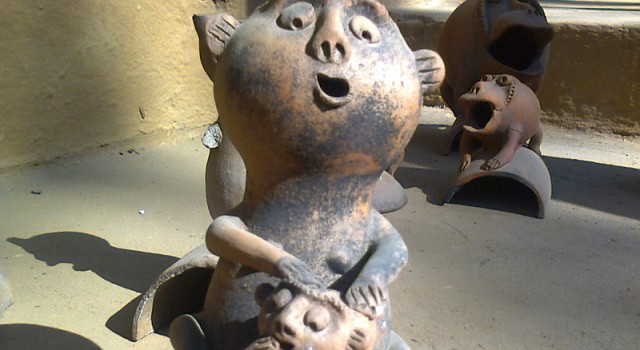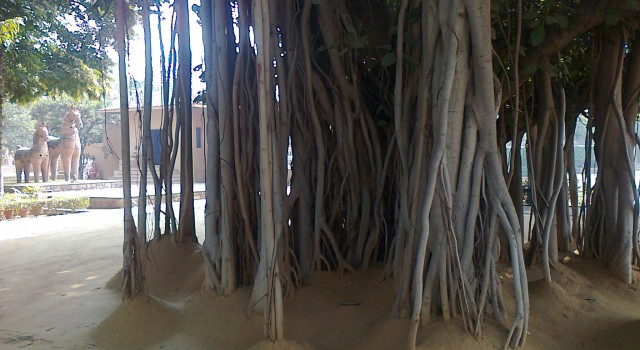 A few days before completion of functional and visual assets, we're putting together a 3d model of our main protagonist, whom you will meet once you enter the game's magical world.
The Tiger lives in a rundown library and carries in its compartments knowledge of the printing period of storytelling. By discovering the Tiger's mechanics, the player is invited into another world on a quest to save the library and unleash secrets well kept.
Major inspiration for the Tiger's creation has been an object from Sanskriti Foundation Museum of Everyday Art's collection, a tiger cabinet used for storing everyday objects. Sanskriti's tiger is an exquisite object of craftsmanship, with various compartments for keeping smalls tools.
We visited Sanskriti Foundation's Museum of Everyday Art at the start of our research, to come across an array of beautiful artefacts depicting a rich cultural heritage. From textiles to terracota art coming from all over India, the tradition of perfect design, where functionality and aesthetics work harmoniously, is a prominent element and for the purpose of Unplay's game an important point of reference.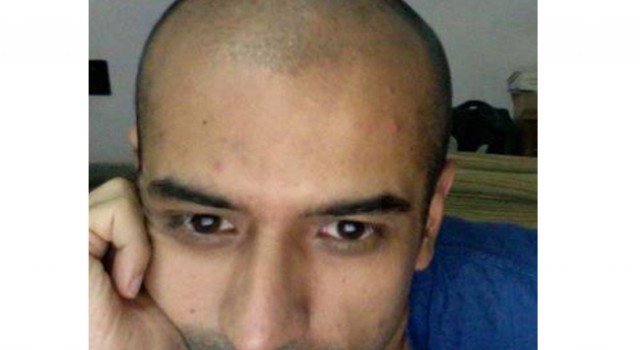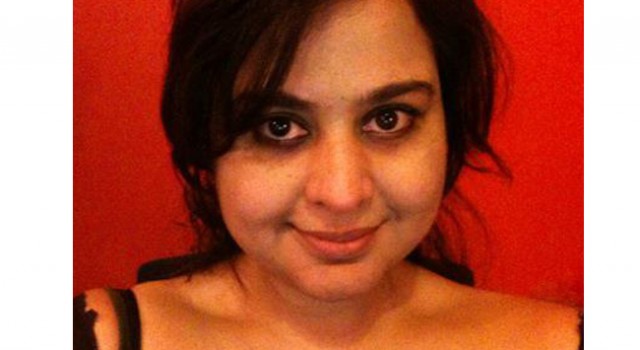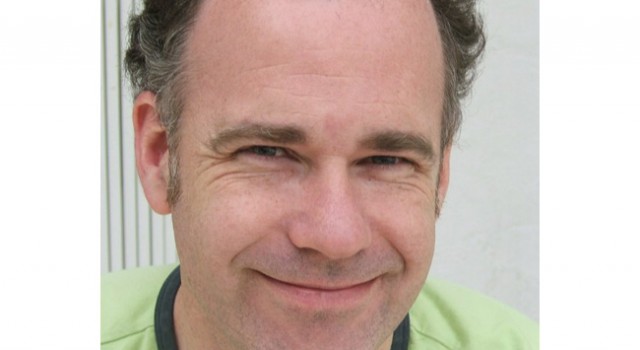 Here's a quick intro to the fellows of UnPLAY!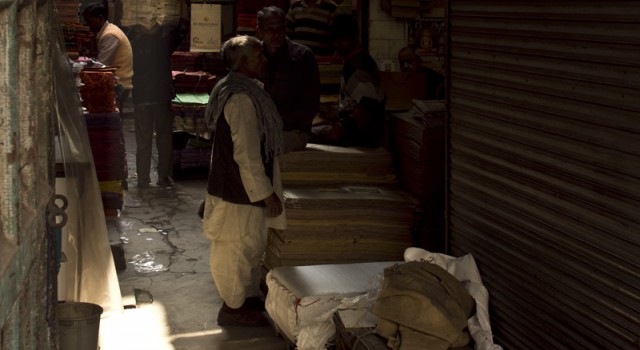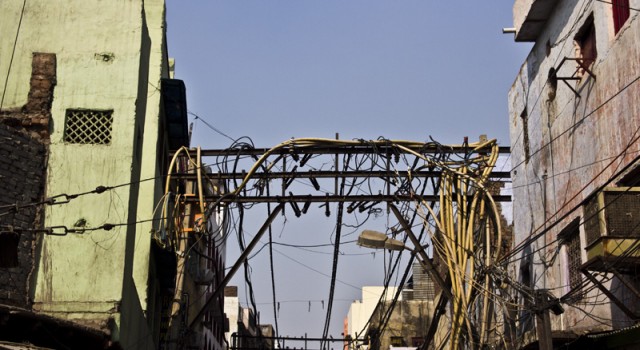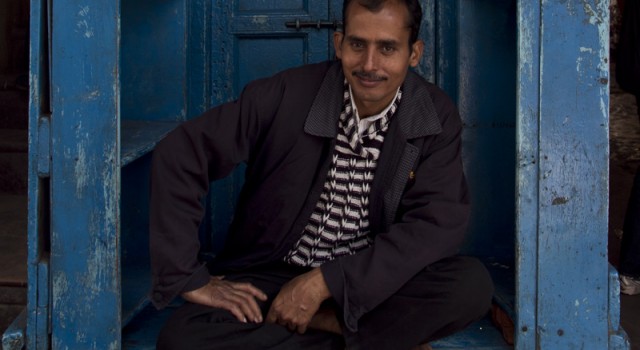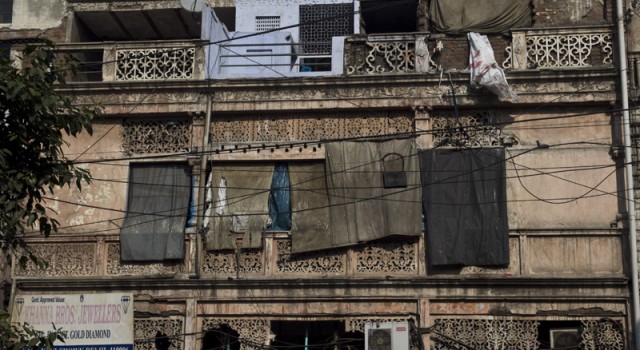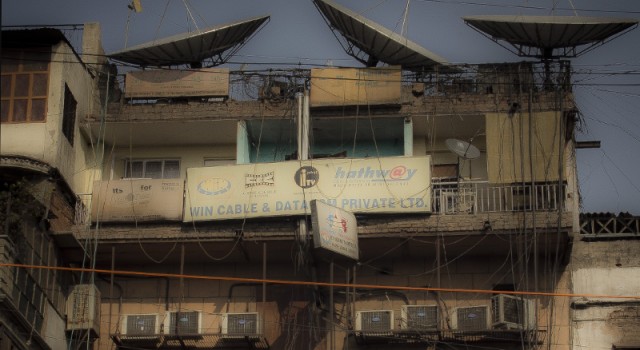 A visit to Old Delhi seeking inspiration for the look and feel of the game, but also to get a sense of this vast city's historical significance was the best thing to do, midst a work intensive final period of the fellowship's development.
Old Delhi is a multi-sensory experience, with so many images, smells, sounds and colours that give a glimpse of what this place has always been. In a way, for those visiting Old Delhi for the first time, it's almost like entering a cabinet of curiosities where past and present co-exist in an amalgam of cultures and stories.
What stays with us for now, until our next trip to this magical part of the city: some beautiful textures we gathered for the game, the view of hanging cables on the street (reminding us of a possible Indian Steampunk inspiration) and an authentic lunch next to the Mosque.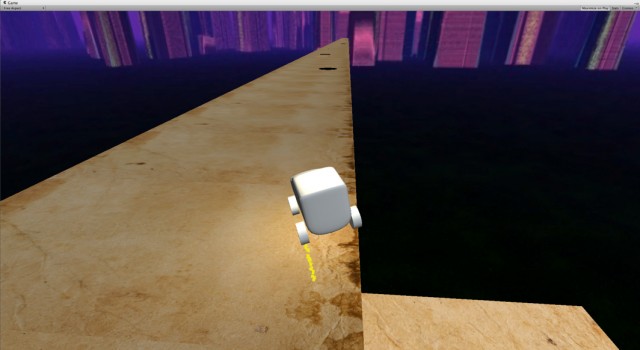 We're halfway through our game and world building and its not been without its challenges. Like the little car on that road, our journey has been precarious, and at times seemed fraught.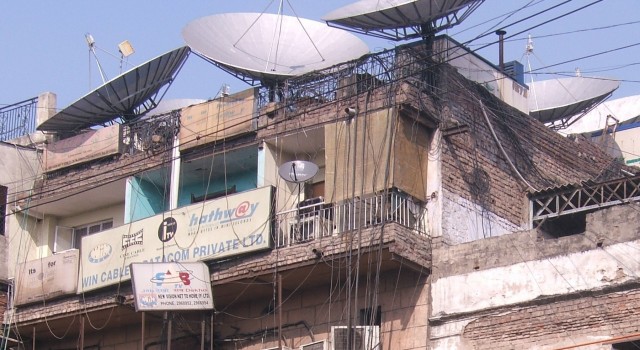 Today we all went on a research trip to Old Delhi. This has three purposes:
To shoot images to use as textures and other elements in the graphics for the game
To get some more general inspiration for what a specifically Indian steampunk aesthetic would look like
To get out of the office for a day as we have all been working hard and feel a little stale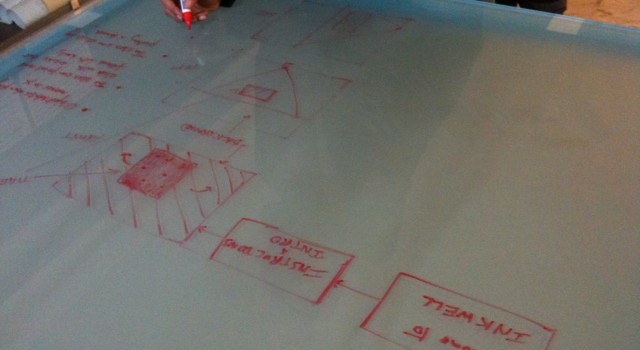 It's only day 5 of the fellowship and I feel privileged to already be making magic armed with the quicksilver imaginations of my colleagues here. When we arrived at Quicksand HQ all we knew was we were going to make a Kinect game. Read more…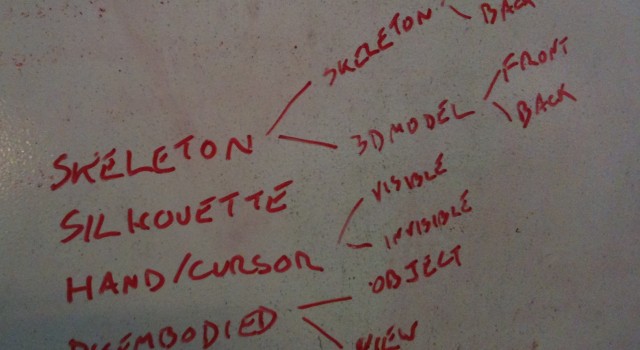 After yesterday's visit to the Museum of Everyday Objects and the Terracotta Museum, we spent today looking at the Kinect and thinking more concretely about the videogame (both in terms of the gameplay and the underlying storyline). I explained how the Kinect works and what it is good at (and not good at). Romit then demonstrated the previous Kinect games that he had created for the sanitation project.