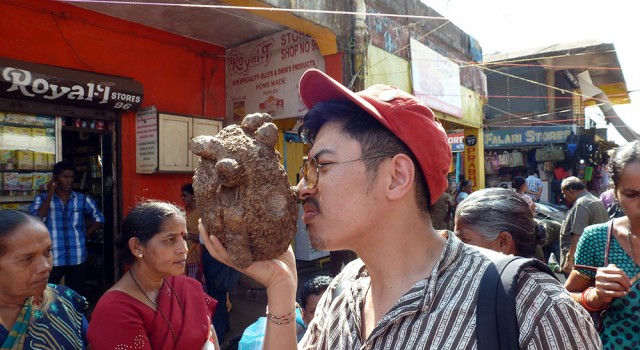 Mapusa Market
After many a discussion about the context of Goa and Goan culture within the larger context of India, we found ourselves, automatically gravitating towards Mapusa Market in Mapusa, Goa. It is a 10 minute scooty ride from 6 Assagao (Gunpowder/People Tree) and it is the biggest and central market for North Goa. Like a good market one can make purchase of anything from a piece of string to a leg of lamb, a chinese made torch to traditional Goan spices, there are repair services for clothes, lighters, sewing machines etc. You can buy a single banana or a 100 banana stalk, it is a local market as well as a wholesale market. There are permanent shops and the streets also get covered by street vendors. Friday is market day and the local Goans, farmers, weavers etc. get whatever produce they have got and come in the hopes of selling them, on Friday, the market is heaving and has almost double the attendance than any other day.
We started off with the intention of possibly starting a cycle rental service at 6 Assagao, but the idea faded out soon and we were left with the exciting prospect of Mapping the vicinity of 6 Assagao, after another solid discussion we zeroed in on the idea of Mapping Mapusa Market as it is a hub for the local community, it incorporates a sense of coming together and could serve as a model for bigger picture issues of community, identity, immigration, capitalism and the current FDI situation in India. Orijit already had a lot of interest because his father was a cartographer and himself having a graphic design background, had a natural love of maps. We have since been researching things like, organisation of the market itself, the logic of presentation of goods, who are the sellers at the market, where do they come from, what and why do they sell the stuff they sell, who are the buyers, what is their conception of the market, has the market changed? if so, what are they and how has it impacted its sellers.  With this we are hoping to create not just a topographical map but a map that is more than just information.
Half way mark has been reached and we now have a lot of work to do. Fingers crossed!
By Stanzin, Andrew and Bahbak.