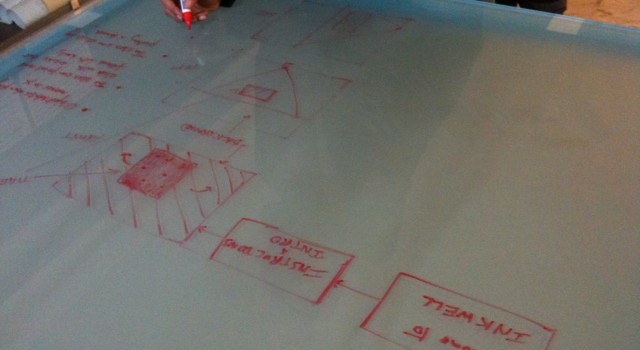 Delhi: truly a city of djinns
It's only day 5 of the fellowship and I feel privileged to already be making magic armed with the quicksilver imaginations of my colleagues here. When we arrived at Quicksand HQ all we knew was we were going to make a Kinect game.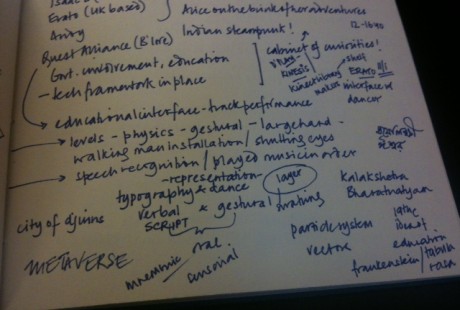 By day 4, we knew so much more: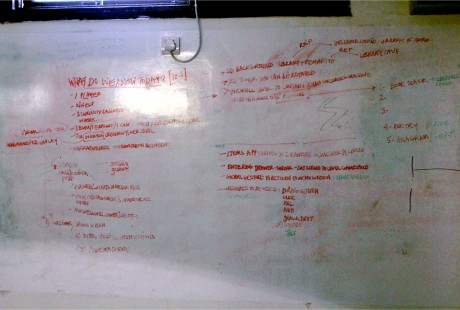 The last few days have been a frantic blur of brainstorming, experimenting, learning, making and discussing what we've come to call Project Inkwell – a demo version of one level of a Kinect game inspired by the future of stories and its containers, a commentary on the opposition between written script, codification and oral culture, gesture as well as on storytelling and the art of narrative. These concerns operate at a meta-level as well, as we think about how we can create an absorbing interactive narrative using technology such as the Kinect.Our aesthetic touchstones were Indian steampunk and curiosity cabinets, inspired by the wondrous Museum of Everyday Art, a sumptuous treasure house of domestic objects that range from toys to talismans, and with whom we are fortunate to be partnering with in this project and we visited on our first day here.
Personally speaking, it's been a thrill to throw out ideas and challenges to a team and seeing them materialise before my very eyes, both technically and at the level of creating the gameplay and storyline, and almost miraculous that we already have a narrative scaffolding on which to build the game. Our varied cultural backgrounds and experiences help to provide a fertile vocabulary to grow the game with, while still having enough similar points of reference (such as videogames played, books read, movies watched) to understand each others perspectives–a serendipitous alchemy that one can only hope for when thrown together with a group of people you've never met before. Here's to more unboxing enchantment and unleashing the pleasure of play.