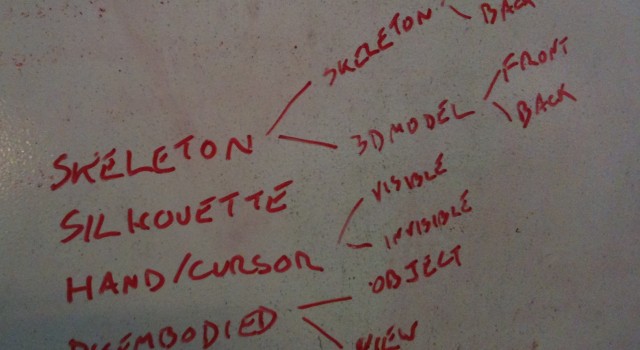 Andy Clarke: Types of Interaction
After yesterday's visit to the Museum of Everyday Objects and the Terracotta Museum, we spent today looking at the Kinect and thinking more concretely about the videogame (both in terms of the gameplay and the underlying storyline). I explained how the Kinect works and what it is good at (and not good at). Romit then demonstrated the previous Kinect games that he had created for the sanitation project.
In terms of the game design, we will probably focus (for the scope of the fellowship) on a disembodied player, with no on-screen avatar (or, at most, a hand-shaped cursor) at this allows us to focus on providing a variety of forms of interaction, rather than getting too tied up in creating 3D graphics and environments: sometimes you will be controlling a hand (or hands) onscreen and using them to click and move objects, at other times, you will be controlling objects like a tilting platform with your entire body. This approach also makes sense given the size of the room at Zorba where we will be demonstrating the game for the UnBox festival, as well as simplifying the number/complexity of the 3D models that we will need (currently, it feels like the 3D modelling is the most complex, time-consuming and unknown part of the project).