Day 1 in Sanchi
Okay!! We went to Sanchi and stayed at a place just below the hill of Sanchi Stupa. First day was quite an experience. I was supposed to lead the interview with the farmers with Misha and I was damn confident about it. Then suddenly something happened. When I heard the farmer speak, I couldn't understand anything!
Although I kept nodding my head and asked questions, I looked at Misha to translate to her, but didn't have a word to say. OMG! I had never heard the specific farming terminologies. Haha. Luckily we had a guide from Digital Green whom I listened to for sometime, and slowly got over this challenge. The farmers also understood and seemed to appreciate my efforts to understand them, and eventually helped me as well.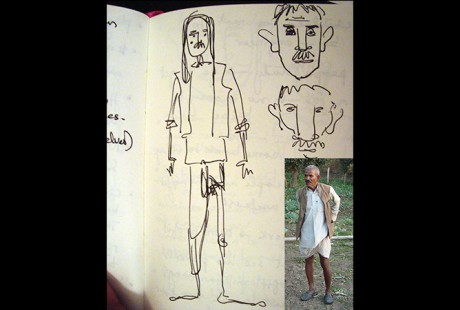 Anyway, the village we went to absolutely fascinating. It was full of Aryans. I was having a treat observing and analysing Aryan physical features alongside conducting the interviews. The farmer costumes and their gestures were also so special and unique. These are some real fast sketches, which I doodled as I was listening to their answers.